Wednesday, April 13, 2011
Monday, April 11, 2011
Truth be told, I don't spend a whole lot of time listening to celebrity gossip. This probably stems from my strong dislike of publicizing someone's personal life. Famous or not, the person is...well, a person and oftentimes the privacy boundaries are crossed. Realizing this early in life (we're talking elementary school, here) would explain why I never got too caught up in a celebrity's life.
But sometimes news will reach my ears, such is the case with Charlie Sheen.
While I do think the man is experiencing a psychotic break and while I do wish the media would turn their cameras off so that he can properly heal...I have to admit that he did inspire one of my newest designs.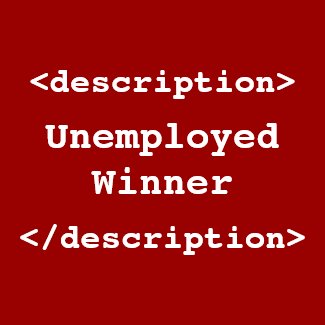 And you wanna know something else? I can kind of relate to this particular quote. Although I am currently unemployed, I feel like a winner right now.
Ideas for products and stories have been multiplying in my head like a couple of rabbits.
The Supernatural Convention is now less than two months away.
It has been confirmed that the new Batman movie will film scenes in my town this summer.
I was in a movie last summer, and the trailer for it is finally gonna premiere this Wednesday on MTV.
Ke$ha put on a FREE concert in my town on Sunday.
So yeah, I'm in a damn good mood right now. And don't winner have a positive state of mind? :-)
Till next time,
Unemployed Winner
Posted by

Amberlynn
at 3:15 PM
0 comments

Wednesday, April 6, 2011
Friday, April 1, 2011